Department of therapeutic dentistry FPGE
Address
Lviv, Pekarska str., 69a. Dental Medical Center LNMU
phone: +38 (032) 276-38-07
Clinical bases of the department:
Lviv, Pekarska str., 69v. Dental Center of LNMU
phone: +38 (032) 276-27-54, 260-07-26
Lviv, Medovoi Pechery str., 1. 6th Communal Clinic
phone: +38 (032) 251-27-44
Lviv, Chervonoi Kalyny ave, 117/1
phone: +38 (032) 222-99-68
E-mail

Head of the department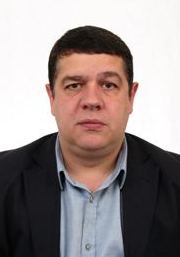 Pupin Taras Illich, PhD, Associate professor
Activities of the department
DIRECTIONS OF STUDY FOR THE Department of Therapeutic Dentistry FPGE:
1. Study of interns in the specialty "Dentistry" (sub-specialty "Therapeutic dentistry")
2. Postgraduate training of doctors on cycles:
• "Dentistry";
• "Therapeutic dentistry";
• "Topical Issues of Endodontics and Periodontology"
• "Actual questions of therapeutic dentistry"
• "Prevention of Stomatological Diseases"
Staff of the department
Zabolotny TD - MD, professor
Godovana OI - MD, Associate professor
Rybert YuO - MD, Associate professor
Nemesh OM - PhD, Associate professor
Bumbar OI - PhD, Associate professor
Moroz KA - PhD, Associate professor
Markov AV - PhD, Associate professor
Gonta ZM - PhD, Associate professor
Shylisvsky IV - PhD, Associate professor
Skalat AP - PhD, Associate professor
Slaba OM - PhD, Associate professor
Vynogradova OM - PhD, Associate professor
Gnid RM - PhD, Associate professor
Minko LYu - PhD, Associate professor
Stadnyk UO - PhD, Associate professor
Zubachyk MV - PhD, Associate professor
Shirikhanova IYu - PhD, Assistant professor
Bandrovskaya NN - PhD, Assistant professor
Kordiyak OYa - PhD, Assistant professor
Sichkoriz HA - PhD, Assistant professor
Matviychuk HB - PhD, Assistant professor
Shkrebnyuk RYu - PhD, Assistant professor
Dyryk VT - PhD, Assistant professor
Makarenko VM - PhD, Assistant professor
Myhal OO - Assistant professor
Bumbar ZO - Assistant professor
Kurochka IM - Assistant professor
Kinash YuO - Assistant professor
Sagaidak TV - Assistant professor
Shevcuk MM - Assistant professor